You know how there's time for everything. All things take time to conceive, grow and mature. Skipping phases rarely results in a desirable fashion. In order to understand what timing and local SEO have in common, you first need to know that there are three types of local directories:
Major aggregators (Acxiom, iBegin, Localeze…)
Search engines (Google, Yahoo, Bing, Yandex, Yelp…)
Local directories (SuperPages, DexKnows, Angie's List, etc)
The right order
It's good to know which data sources are interconnected, so you don't waste time creating local citations where it's not necessary. Creating and claiming your local business listings in the right order is an important factor for your local search optimization campaign. Although most links between local directories, aggregators and search engines are two-way roads, it's good to know which data provider is more important than the other.
Knowing where to claim your business listing first may save you time, boost your reach, speed up the local optimization process and save you of those pesky duplicate listings.
The image below shows the data streams between local directories.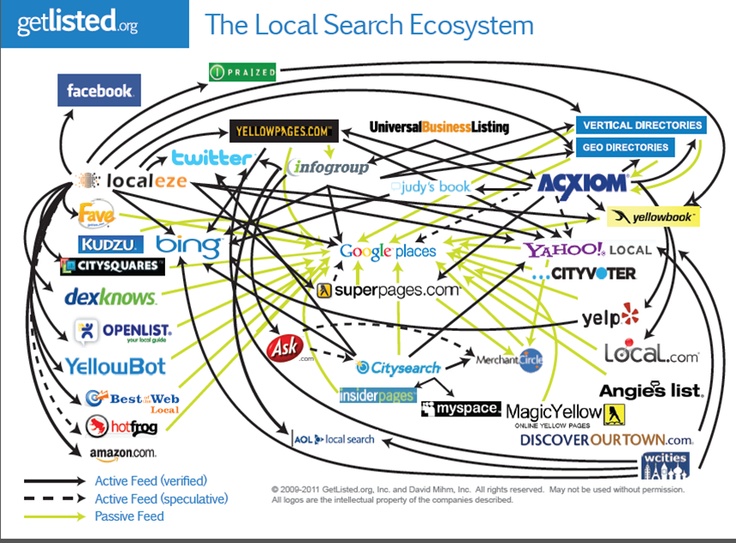 1. Major Aggregators
Major aggregators sit at the highest of local directory tree. You should first visit them and see whether there's a record of your business there. If not, you should create one, otherwise just claim the listing. The process is usually done by an automated phone call.
Local data aggregators:
Sometimes it's just a matter of signing up with an email address and receiving a confirmation email.
After you finish creating, claiming or updating, you should wait a couple of weeks before all the local directories and search engines import your data. This patience will make sure you don't create duplicate listings.
Search engines have always wanted to become major data providers (aggregators) and Google is now emerging as one.
2. Search Engines
Search engines are the next in line for your SMB local search optimization campaign. Try to find your local business in Search Engine local pages a couple of weeks after you finish claiming them on major aggregators.
You'll verify yourself as the owner and wait for a postcard with a pin code or for an automated phone call (Yelp). you should start building listings with photos, videos, work hours, descriptions, business categories and everything else there is.
The more complete your business profiles are, the higher visibility your local business will get.
Most local directories gather business citations from search engines and data providers and you always get the most control over your business listing right here.
3. Local Directories
Local directories can be general, niche, vertical or geo oriented. Once you claim your listings you can do all sorts of stuff with your local profile and you should take advantage of that. They usually have review systems as well and you should monitor and answer them as part of your reputation management campaign.
Local directories can be found simply by searching for your business (niche) + city. For example, "Life Coach, San Francisco CA". If you want to find and populate only the most influential local directories in your city, check out best citations sources in US.
There are also online services that can do all written above for money, but remember nothing beats manual local optimization. Services like Yext and GetListed help you find most important local directories and they create profiles as well.
---
Always write your business info on a piece of paper, so when you create or update your local business profiles, you do it in the most consistent manner. You don't want variations, because search engines see that as a lack of legitimacy.
Consistency is the key in playing the local optimization game and consistent NAP (name, address & phone number) info in local citations is crucial.
Proper order of doing things in your local SEO campaign is what saves you from inconsistent and duplicate local listings, establishes your SMB as legitimate online entity and gives your small business the edge over the competition.