We all know that headers are what we see first when browsing, so I don't need to tell you that the first impression your website makes is through its header area. Many big brands are utilizing sticky or fixed navigation and many website owners are looking for WordPress themes that feature them.
If you don't want to change the design of your website, but want to add sticky functionality to your header, you can do it via CSS or you can install a plugin.
I've been involved in creating several WordPress sticky header plugins and I'd like to share them with you.
Sticky Header by ThematoSoup
Sticky Header is a very light WordPress plugin which allows you to configure your fixed navigation via Theme Customizer. You can also add your logo and choose background and text color, so it matches your current website look.
Features:
Utilizes theme customizer
Logo image upload
Background and text colors
Hide on mobile screens
You can download the plugin from the WordPress.org plugin repository or read the review first.
It will improve the overall experience and increase browsing satisfaction, but this sticky header works on your branding, too. By uploading your logo, your branding is always visible and your readers will remember your site quicker.
Awesome Sticky Header by DevCanyon
This plugin is a free version of the very popular Awesome Header plugin. It's packed with features that should help you make your sticky header blend right in. Although free, this plugin allows you to modify almost every element of your WordPress fixed navigation.
You can control your:
Sticky scroll position
Header width, full-width stretch, header position
Slide animation
Hover transition
Menu depth
Logo type – text, image
Menu & logo paddings and position
Background image or color
Site title, site description, and menu colors
Font sizes for all elements
Border sizes and colors
Search box
Secondary menu (three vertical dots)
As you can see, you can configure many parameters regarding main navigation, submenus, logo and tagline. In addition to all this you get the option to disable sticky navigation for mobile devices, so you don't waste your visitors' screen real-estate. I strongly suggest you use this option.
Awesome Sticky Header supports several filters, so WordPress developers will love tweaking it.
Awesome Header
If you're not satisfied with your current WordPress header and want to replace it, if you want more menu layers, more features and even more control, I suggest you use Awesome Header, available for purchase at CodeCanyon.
It's a very powerful plugin with all the features found in the free version plus several premium perks:
Option to replace your WordPress header entirely
3 layers of navigation – social menu, eCommerce menu, breadcrumbs, page titles, secondary menu, several search styles…
Microdata Breadcrumbs for better SEO
bbPress & WooCommerce support
Retina ready
This plugin can replace your entire WordPress header section and gives you the option of previewing the changes you make in your dashboards. It's unique when it comes to flexibility and extensibility and if you're a developer you'll find myriad of filter and action hooks very useful.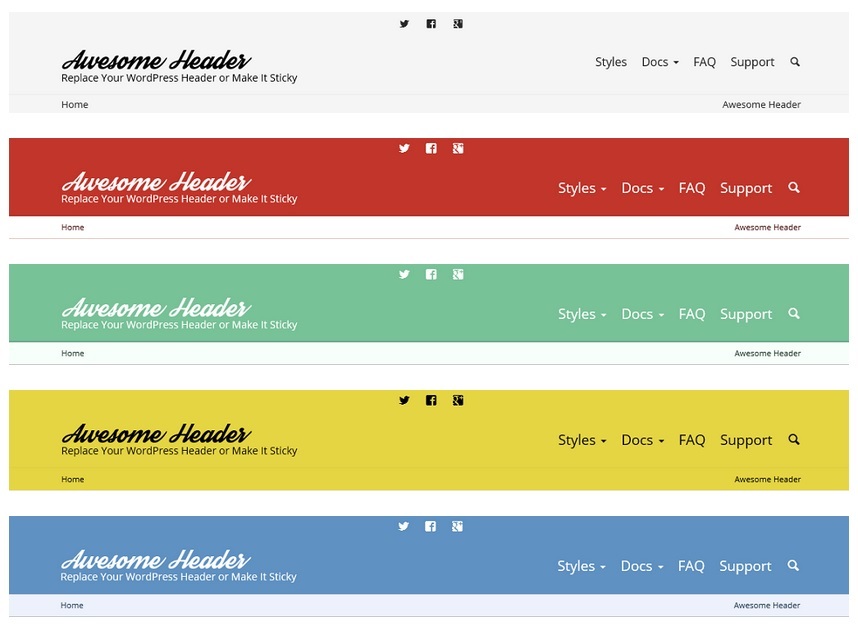 Awesome Header is a plugin that will be supported for a very long time and by purchasing it you get lifetime updates.
---
The benefits of having sticky navigation are many. Your online presence will get better branding, you'll have lower bounce rates, improved usability and UX with more satisfied visitors, resulting in an increase in conversions.
Try them, tell me if they work for you.